I was born and raised in beautiful 
Boulder, Colorado
, where I received my undergraduate degree in Communication at 
CU
. I also spent time studying computer science, business, advertising, and music. My college career was blessed with amazing real-world employment opportunities working for 
Apple
, 
Miramax Films
, 
A.D.D. Marketing & Advertising
, and 
CU Program Council
. Since relocating to San Francisco, I've had the privilege to learn and work with many talented teams, including 
Goodby Silverstein & Partners
,
DDB SF
, and
Venables Bell & Partners
.
Please browse my portfolio online and watch my motion graphics reel.. Learn more about my work experience by viewing my resume here: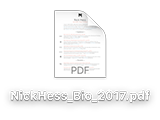 Design
My passion for design roots from my love for Apple and also my Dad, who has been an art director and graphic designer for over 35 years. I loved drawing as a kid, and dreamed up my first logo for 
Hess Industries
 at 10 years old, which still stands unchanged today. In high school I won awards in statewide web design contests, and then in college landed a position doing graphics for 
CU Program Council
, the organization that provides national-level entertainment on Boulder campus including concerts, film, comedy, and other large events. Since then I've been able to grow immensely as a graphic artist, and had the opportunity to design posters for some well known musicians and performers.
Apple
My first year attending 
CU Boulder
, I was recruited as one of the only freshman in the 
Apple Campus Rep Program
. This was an amazing opportunity, and the best student gig around. I remained an Apple Rep for 5 years, training students and faculty on the latest new gadgets and software, promoting education discounts, and executing marketing strategies on campus. My last two years I was promoted to a Senior Campus Rep, and my leadership skills were utilized to train and assist other Campus Reps around Colorado, and also to innovate the program overall as one of twelve students chosen nationwide for the Campus Rep Advisory Board. In 2010 I gained Apple Sales Professional status to work on the floor in Best Buy stores, educating employees and increasing sales.
I've also dipped my toes into the app development world, designing interfaces and software for Mac and iOS based platforms.
Marketing & Advertising
When I was a kid my Dad and I would rate the best commercials on TV and cut out our favorite print ads from magazines. His marketing mindset was imprinted on me very early on, and it has greatly influenced how I view and understand the business world. Working with strong brands like 
Apple
and 
Miramax
has taught me how every interaction with the customer is sacred, and how to produce powerful messaging that shapes that relationship. I'm passionate about marketing and advertising because a bad campaign can be volatile and destructive — but great campaigns are like a work of art — they can inspire, educate, and enrich people's lives.
Communication
I enjoyed many different focuses while in college, studying computer science and business early on, then going more right-brain into the advertising and music programs. What stayed consistent in my thinking was that communication matters — and the ability to design an interaction and effectively portray a message is a hugely valuable asset in that regard. That's why in the end I chose to earn a degree in 
Communication
, especially since CU's department is among the 
top five nationwide
. The language of ideas is now more important than ever, whether it's capturing a visual style, writing effective copy, reaching a demographic, building a brand or simply solving a problem.
Direct & Retail Sales
Since my very first job bagging groceries, I've been accustomed to the customer interaction, and demonstrating value in a product or service. Whether it's analyzing individual customer needs, managing an effective retail environment, or providing solutions for entire organizations, I'm well-versed in encouraging buyer confidence and translating technical discourse into tangible benefits. In my 5 years with 
Apple Education
at CU, our yearly sales increased from 3M/year to 11M/year, making Macs the most popular computer for students, faculty, and on-campus labs.